Praise for All My Recipes iphone/ipad app:
"Everything about this app is excellent…"
"All My Recipes is the best recipe app out there. I have been using it exclusively for a long time and I love the changes in the recent update, adding grocery store aisles to the shopping lists."
"…this one keeps getting better. The latest update makes it a universal app that works on the iPad at no additional cost. I've use the bump feature a few times to pass a recipe over to a friend. They were amazed at how easy it was."
"Fills in the gaps that many other cooking/recipe apps have. Very easy to add a recipe to the shopping list to make sure you have everything you need."
"I have been looking for an application that lets me store my personal recipes and automatically creates a shopping list of the items that I need to buy. I have tried many other applications but none has fulfilled my requirements. Finally, All My Recipes fulfills my needs. Thank you very much. Keep up the good job."
Enjoy this demo of All My Recipes app:
The most feature-rich iphone recipe app available allows you to: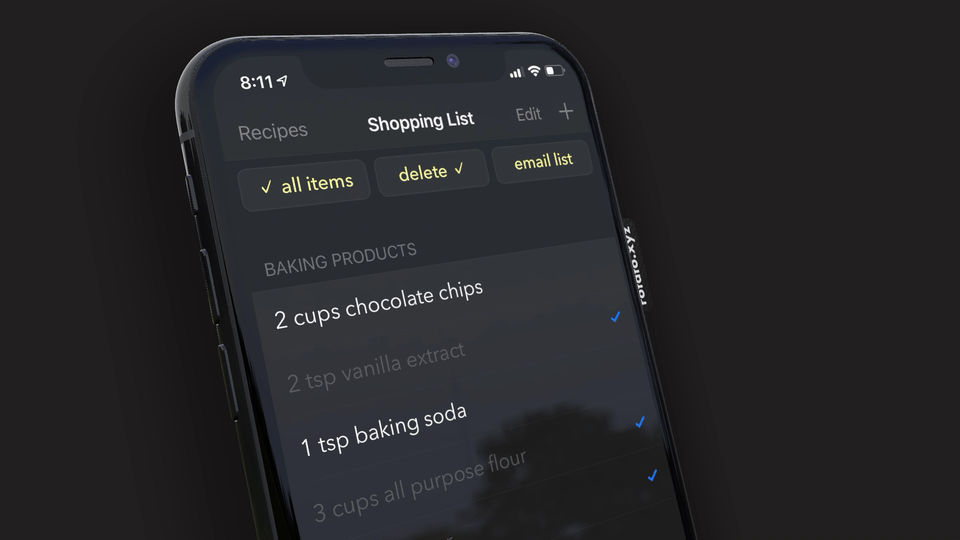 Add or modify your own recipes, just how you like them.
Share your recipes with others via email or by 'bump'ing your devices.
AllMyRecipes is now universal, available for iPhone and iPad.
Search all your recipes by both title or ingredient.
Customize your recipes while you cook by changing the number of servings. Ingredient amounts are automatically updated while you edit.
Add photos of your culinary masterpieces, using either your camera or archived photos/images.
Create a shopping list for any recipe(s).
Modify the shopping list to include additional items you need from the store.
Email the shopping list to your good friend who offered to stop at the store for you.
Check off or clear items on the shopping list as you add them to your cart.
Rate your recipes so you can quickly identify your very favorites, and delete those you no longer enjoy.
One touch sorts your recipes alphabetically or by rating.